DAA Capital wishes you a very Happy Diwali and Samvat !
This festive season, we shall look at where the Benchmark Index Nifty 50 is placed and what is in store for the Indian Markets. In spite of negative sentiments lurking the markets backed by anxiety of a possible recession in major Global economies and inflation being a major concern on the domestic front, we strongly believe that Indian Markets are poised to stand out, amongst the major Global indices, as one of the best performing markets this decade. A quick snapshot of the performance of Nifty compared with major Global Indices should make a strong case for our view. What falls the least during a corrective phase, will become the outperformer in a rising market. Whilst in the short term this view may be questionable, there is no doubt that India will tide over the corrective phase, much smoother and sooner. While we may look for reasons to support this view, markets have always shown us that the Price will move first, reasons will eventually follow. Price action discounts everything. 
Sl No.

Indices

3 Month

1 Year

Shanghai Composite (China)
However, let us not make the mistake of calling the current levels or recent swing lows as the bottom. We most certainly are in for some turbulent times in the Indian markets where price correction gets joined by the more painful time correction which can bring in a lot of frustration for any Investor. But we believe that this must be looked at as an opportunity to invest in quality portfolios rather than getting jolted/shaken out of the markets. All we need to do is to position ourselves to invest in a manner that will see us ride the strong rally that the Indian markets are poised to witness.
Chart View of Nifty: Although price seems to be in a cluster, it is just a matter of time before the range gets broken for a move up. However, this entire price and time correction may stretch for a couple of quarters before the uptrend resumes. Having faith in thepre-defined investment strategies along with the growth story of India will play key role.
Chart View of Nifty vs Bonds, Gold and USD: A quick snapshot of the Nifty price action plotted against Gold, Bonds and USD is encouraging to invest in Indian equities. We must plan our investments both strategically and tactically to absorb any volatility and sharp corrections in the short term.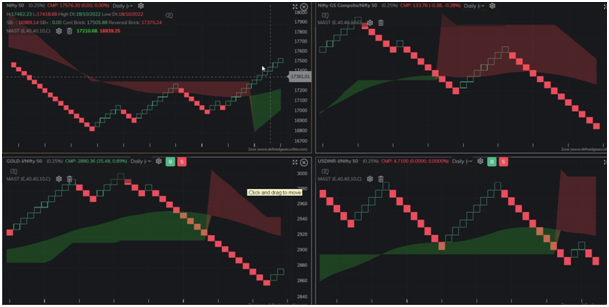 Disclaimer: This report is for private circulation only and to be treated as educational material and not as a professional advice to Buy/Sell any instrument. The recipient/reader is solely responsible for making your own investment decisions. If you choose to engage in such transactions with or without seeking advice from a licensed and qualified financial advisor or entity, then such decision and any consequences flowing therefrom are your sole responsibility. We at DAA Capital assist Investors carry out strategical investment decisions with curated Investment products to suit one's risk tolerance and financial goals.
For more information on our Product and Service offering, please visit www.daacapital.in or contact Lakshminarayanan on LN@daa-india.com